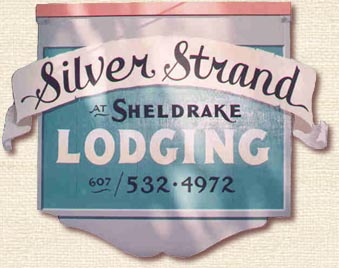 Silver Strand is easy to find no matter where you are coming from. It is located on the waters of Cayuga Lake in the the heart of Central New York. This graciously restored 145 year old Queen Anne Home is located 22 miles North of Ithaca, NY and 20 miles South of Seneca Falls, NY just off State Route 89.
Please click on location below for detailed directions
or call us at (800) 283-5253.
Albany, NY
Baltimore, MD
Binghamton, NY
Buffalo, NY
Cleveland, OH
Hartford, CT
Ithaca, NY
New York City, NY
Philadelphia, PA
Pittsburg, PA
Rochester, NY
Scranton, PA
Syracuse, NY
Trenton, NJ
Watkins Glen, NY
---
From Ithaca, NY       (Top)
Go North on State Rte 89 to Sheldrake (22 miles)
Turn East (right) on County Road 139 (1 mile)
Turn left at stop sign travel one block
Look for Silver Strand sign
Total Mileage (23 miles)
---
From Watkins Glen, NY       (Top)
Go North on State Rte 414 to State Rte 96 (24.0 miles)
Go Southeast on State Rte 96 (2.2 miles)
Turn East (left) on County Road 139 (1 mile)
Go straight at stop sign at State Rte 89 (1 mile)
Turn left at stop sign travel one block
Look for Silver Strand sign
Total Mileage (28.2 miles)
---
From Rochester, NY       (Top)
Go Southeast on I-490 to I-90 (14.9 miles)
Go East on I-90 (Portions toll) to State Rte 14 (24.1 miles)
Go South on State Rte 14 to US 20 (6.3 miles)
Go East on US 20 to State Rte 96 (2.0 miles)
Go Southeast on State Rte 96 (19.3 miles)
Turn East (left) on County Road 139 (1 mile)
Go straight at stop sign at State Rte 89 (1 mile)
Turn left at stop sign travel one block
Look for Silver Strand sign
Total Mileage (68.6 miles)
---
From Binghamton, NY       (Top)
Go West on State Rte 17 to State Rte 96 (21.0 miles)
Go Northwest on State Rte 96 (30.7 miles)
Go North on State Rte 89 to Sheldrake (22 miles)
Turn East (right) on County Road 139 (1 mile)
Turn left at stop sign travel one block
Look for Silver Strand sign
Total Mileage (74.7 miles)
---
From Syracuse, NY       (Top)
Go West on State Rte 38 to Auburn
Go Southwest on State Rte 5 to State Rte 89
Go South on State Rte 89 to Sheldrake
Turn East (left) on County Road 139 (1 mile)
Turn left at stop sign travel one block
Look for Silver Strand sign
Total Mileage (74.9 miles)
---
From Scranton, PA       (Top)
Go North on I-81 to New York (41.5 miles)
Go Northwest on I-81 to State Rte 17 (14.5 miles)
Go West on State Rte 17 to State Rte 96 (21.0 miles)
Go Northwest on State Rte 96 (30.7 miles)
Go North on State Rte 89 to Sheldrake (22 miles)
Turn East (right) on County Road 139 (1 mile)
Turn left at stop sign travel one block
Look for Silver Strand sign
Total Mileage (130.7 miles)
---
From Buffalo, NY       (Top)
Go Northeast on State Rte 33 to I-90 (7.1 miles)
Go East on I-90 (Portions toll) to State Rte 14 (95.8 miles)
Go South on State Rte 14 to US 20 (6.3 miles)
Go East on US 20 to State Rte 96 (2.0 miles)
Go Southeast on State Rte 96 (19.3 miles)
Turn East (left) on County Road 139 (1 mile)
Go straight at stop sign at State Rte 89 (1 mile)
Turn left at stop sign travel one block
Look for Silver Strand sign
Total Mileage (132.5 miles)
---
From Albany, NY       (Top)
Go West on I-90 (Portions toll) to State Rte 414 (179.6 miles)
Go South on State Rte 414 to State Rte 96 (22.6 miles)
Go Southeast on State Rte 96 (2.2 miles)
Turn East (left) on County Road 139 (1 mile)
Go straight at stop sign at State Rte 89 (1 mile)
Turn left at stop sign travel one block
Look for Silver Strand sign
Total Mileage (206.4 miles)
---
From Trenton, NJ       (Top)
Go North on US 206 to I-95 (3.5 miles)
Go West on I-95 to State Rte 31 (3.0 miles)
Go North on State Rte 31 to I-78 (26.8 miles)
Go West on I-78 to US 22(13.0 miles)
Go West on US 22 to Pennsylvania (4.0 miles)
Go West on US 22(Portions toll) to local road (1.0 miles)
Go Northwest on local road to State Rte 33 (5.5 miles)
Go North on State Rte 33 to I-80 (18.0 miles)
Go Northwest on I-80 to I-380 (9.0 miles)
Go Northwest on I-380 to I-81 (28.7 miles)
Go North on I-81 to New York (45.8 miles)
Go Northwest on I-81 to State Rte 17 (14.5 miles)
Go West on State Rte 17 to State Rte 96 (21.0 miles)
Go Northwest on State Rte 96 (30.7 miles)
Go North on State Rte 89 to Sheldrake (22 miles)
Turn East (right) on County Road 139 (1 miles)
Turn left at stop sign travel one block
Look for Silver Strand sign
Total Mileage (247.5 miles)
---
From New York City       (Top)
Go Southwest on I-95 to I-80 (3.9 miles)
Go West on I-80 to Pennsylvania (66.8 miles)
Go Northwest on I-80(Portions toll) to I-380 (18.0 miles)
Go Northwest on I-380 to I-81(28.7 miles)
Go North on I-81 to New York(45.8 miles)
Go Northwest on I-81 to State Rte 17 (14.5 miles)
Go West on State Rte 17 to State Rte 96 (21.0 miles)
Go Northwest on State Rte 96 (to Ithaca) (30.7 miles)
Go North on State Rte 89 to Sheldrake (22 miles)
Turn East (right) on County Road 139 (1 mile)
Turn left at stop sign travel one block
Look for Silver Strand sign
Total Mileage (252.4 miles)
---
From Philadelphia, PA       (Top)
Go West on I-676 to I-76 (2.4 miles)
Go Northwest on I-76 to I-476 (12.1 miles)
Go Northeast on I-476 to I-81(108.3 miles)
Go North on I-81 to New York (53.3 miles)
Go Northwest on I-81 to State Rte 17 (14.5 miles)
Go West on State Rte 17 to State Rte 96 (21.0 miles)
Go Northwest on State Rte 96 (to Ithaca) (30.7 miles)
Go North on State Rte 89 to Sheldrake (22 miles)
Turn East (right) on County Road 139 (1 mile)
Turn left at stop sign travel one block
Look for Silver Strand sign
Total Mileage (265.3 miles)
---
From Hartford, CT       (Top)
Go Southwest on I-84 to New York (61.1 miles)
Go West on I-84 (Portions toll) to State Rte 17 (54.8 miles)
Go Northwest on State Rte 17 to I-81 (106.4 miles)
Go West on I-81 to State Rte 17(5.5 miles)
Go West on State Rte 17 to State Rte 96 (21.0 miles)
Go Northwest on State Rte 96 (to Ithaca) (30.7 miles
Go North on State Rte 89 to Sheldrake (22 miles)
Turn East (right) on County Road 139 (1 miles)
Turn left at stop sign travel one block
Look for Silver Strand sign
Total Mileage (302.5 miles)
---
From Baltimore, MD       (Top)
Go North on I-83 to Pennsylvania (33.6 miles)
Go Northwest on I-83 to I-81 (50.5 miles)
Go Northeast on I-81 to New York (162.4 miles)
Go Northwest on I-81 to State Rte 17 (14.5 miles)
Go West on State Rte 17 to State Rte 96 (21.0 miles)
Go Northwest on State Rte 96 (to Ithaca) (30.7 miles)
Go North on State Rte 89 to Sheldrake (22 miles)
Turn East (right) on County Road 139 (1 miles)
Turn left at stop sign travel one block
Look for Silver Strand sign
Total Mileage (335.7 miles)
---
From Cleveland, OH       (Top)
Go Northeast on I-90 to Pennsylvania (74.2 miles)
Go East on I-90 to State Rte 17(30.4 miles)
Go East on State Rte 17 to State Rte 13 (173.1 miles)
Go Northeast on State Rte 13 (to Ithaca) (27.4 miles)
Go North on State Rte 89 to Sheldrake (22 miles)
Turn East (right) on County Road 139 (1 miles)
Turn left at stop sign travel one block
Look for Silver Strand sign
Total Mileage (346.7 miles)
---
From Pittsburg, PA       (Top)
Go Northwest on I-579 to I-279 (1.6 miles)
Go Northwest on I-279 to I-79 (10.4 miles)
Go North on I-79 to I-90 (105.0 miles)
Go Northeast on I-90 to State Rte 17 (10.4 miles)
Go East on State Rte 17 to State Rte 13 (173.1 miles)
Go Northeast on State Rte 13 (to Ithaca) (27.4 miles)
Go North on State Rte 89 to Sheldrake (22 miles)
Turn East (right) on County Road 139 (1 miles)
Turn left at stop sign travel one block
Look for Silver Strand sign
Total Mileage (369.5 miles)